Let us handle your workplace wellness
We curate the perfect snack mix for you automatically.
Our plans start as low as $30 per week for 24 servings
of seasonal fruit and healthy snacks.
No weekly order hassles
No contracts
Hand delivered
Stocked directly into designated area
We customize your delivery to make sure you and your team get the right selection of seasonal fruit and snacks.
We stock your fridge, or our mini fridges, with fresh fruit and snacks on a delivery schedule that works for you.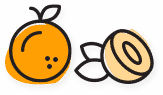 Your team gets to enjoy fresh, healthy snacks, and you get to enjoy the freedom of no long-term contracts.
Healthy office snack delivery in Seattle is now a viable option for you! ThirdLeaf NW is a locally owned and operated healthy food delivery business that provides Seattle-area office snack delivery.
We would all be lying if we said that we'd never made it through the work day with junk food from a vending machine, washed down with a sticky, sugary soda. But we also know we didn't feel great then or later, and that our productivity and mood likely suffered. There is a better way! ThirdLeaf NW provides the following as a snack delivery option:
Apples and a small apple refrigerator to keep apples crisp and fresh each week
Other colorful and healthy seasonal fruit
Fresh food hand-delivered
No required weekly contracts
Free trial for new customers to check us out
Donation to food banks or charities of leftover fruit

Whether you need a morning or afternoon boost, our snack delivery service provides you a healthy alternative to junk food or expensive take-out.
Snack Box Delivery Seattle
ThirdLeaf's snack box delivery is a fantastic alternative to junk food or traditional food delivery options. With over 300 customers in the Seattle area, we have the experience to customize your office snack box and fruit delivery, whether you have 10 or 1000 employees. We can work with you to customize your order to your needs and delivery schedule. We love to provide healthy snack box delivery for a better and healthier snack option! Some of the benefits of using our snack box delivery service:
Custom sized to fit your needs
No contracts
Nutritious apples
In-season produce
Other healthy snacks
We deliver, stock, and clean up
Snack Delivery Service Seattle
For a happier and healthier office, try our snack delivery service in Seattle! Call ThirdLeaf at (206) 682-1268 for snack box delivery to your Seattle workplace. We offer snack delivery service in Seattle, bringing you healthy and delicious options. Contact us for a free trial. We can customize an order for you to see if our snack basket service is right for you. ThirdLeaf NW is the health and wellness food delivery company! You can have snack box delivery straight to your Seattle office by our friendly team who will stock your fruit and snacks in a designated spot. We think you'll enjoy the benefits of our healthy snack delivery service:
Delivered directly to your office
Healthy snack alternative
Seasonal, colorful and healthy fruit
Variety of healthy snacks
Customized size deliveries (plans start as low as $30/week for 24 healthy servings)